The ultimate deck is built with CedarOne decking products. Their rich and appealing natural color combined with the famed natural durability and dimensional stability of Western Red Cedar puts a CedarOne deck at the peak of luxury and quality. The beauty of CedarOne decking makes it one of the most desirable materials for quality decks. Its renowned durability occurs naturally from decay-resistant thujaplicins and phenolics, so all CedarOne decking products are free of chemical preservatives. As North America's most stable softwood, CedarOne decking lies flat, stays straight, and resists splinters and cracking, making it an ideal walking surface. As the lightest-weight softwood, it has superior thermal properties that make it cooler under foot on those hot summer days.
The versatile range of CedarOne product standards and sizes allows designs that will complement any building style. The virtually knot-free appearance of Premium Clear CedarOne decking has an elegant appeal that is associated with fine woodwork, while a more relaxed atmosphere can be achieved with CedarOne Premium Knotty decking. CedarOne decking products are available in 4", 6", 8", 10", and 12" widths; 5 ⁄4" and 2" thicknesses, and a choice of eased or radius edges. All CedarOne decking products are surfaced to exacting standards, which enhances both their appearance and function.
CedarOne deck accessories bring a CedarOne deck alive with fashion and style. 2x2 balusters, in either clear or knotty style, add a fine line detail to any deck design. CedarOne handrails, with a profiled 2x4 top cap or keyhole-patterned 2x6, add the right finishing touch.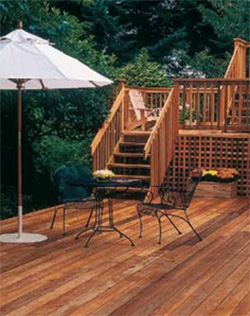 Let Rockford Deck Company build the deck of your dreams!